Beginner Songwriting Tips
Read on for beginner songwriting tips that will fast-track your progress as a songwriter... and have you writing great songs in a very short time....
When you're a beginner at songwriting it can be tough.
It's hard to know what process you need to go through to write a good song. And you also feel scared that you'll make a big mistake somewhere along the way, and your song will be terrible.
---
Premium Content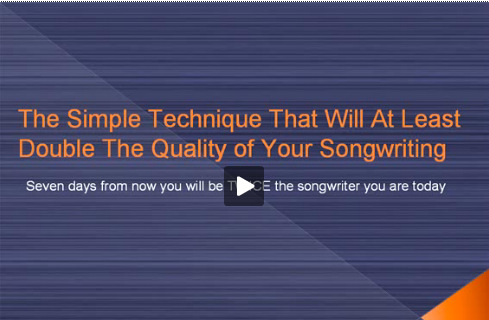 Click here to watch the Simple Technique That Double's The Quality Of Your Songwriting

---
To compound this, most of the songwriting advice you'll find posted to the internet or in book stores actually makes it MORE DIFFICULT to write a good song.
More on this in a moment…
First though, I'd like to give you a few small pieces of advice that should help get you on the way to writing songs that dazzle and entertain.
---
You might think it's going to take years to write a good song.
---
While it may take this long to really hone your style and "go deep" into what your capable of, it will not take even close to this to begin creating some really good stuff.
Let me give two important points that will help you begin writing great songs right off the bat.
And keep in mind that the ideas I'm telling you actually took me YEARS to figure out. Thankfully you can shortcut straight to these "hard earned" pieces of information I'm about to tell you.
The first piece of advice I want to give you is this: While you haven't written a great deal of material, you DO know a lot about music.
You know what you like. You know what you don't like. You've probably got a good idea of the type of songs you'd like to write.
---
USE this information!
---
When you sit down to create something, you must follow your intuition. If you play something or write something and you think it sounds pretty good, then explore this idea further.
It's a common mistake that beginner songwriters make when they think to themselves, "Who am I to know if this is the way a song should be written".
And because of this they stop writing completely!
Let me tell you something. The great songwriters DON'T CARE about the way a song should be written. They never have. They simply write, write, write… following their intuition, and great stuff comes out of these sessions.
So TRUST that you know when something sounds good.
Now, one area that can be tough in beginner songwriting, is knowing how to structure a song.
It's the same old conversation… "I'm not sure if it's correct to structure a song that way…"
---
Get RID of this type of thinking!
---
Your brain whether you realize or not is an incredibly powerful creative force. The great songwriters know this and allow it to create freely without "clogging it up" with structures or ideas about the way a song SHOULD be written.
So use your intuition. If you need guidance with the way to structure your song, take your favorite track out… play it… and document the way the song's been structured.
Then use this basic framework to create a structure for your song.
Another beginner songwriting tip I must mention, because this is one of the best things you can possibly to for your songwriting, is to RECORD your creative sessions.
This means that every time you sit down with your instrument to play… have a simple recording device on hand and let it document everything you play (good or bad).
If you'd like a step by step procedure that will allow you to create many new and inspiring musical ideas, check out this article (After finishing the current one of course!).
Well, I've given you enough beginner songwriting ideas to get started, so I'll wrap this up in a moment.
---
There's one more thing to address before closing out this beginner songwriting article. And this is VITALLY important.
---
I'm talking about what I mentioned when I began this article… the fact that most songwriting information does nothing but HOLD YOU BACK from writing your best stuff.
The thing is: the pathway to unleashing your inner artist… and writing music that you love and that can change peoples lives… is about having arock solid idea of what music you want to create… and then using the insanely powerful brain you have to create these songs.
Now this may sound like a mouthful, but bear with me for a moment.
You see, when most people talk about how to write a song they suggest chord structures… how long a song should be… and give cliche lyric ideas…
They basically treat music as if it's a mathematical equation and you can piece it together in an analytical fashion.
The truth is, inside you is a gifted artist that wants to express itself. And the way to bring this gifted artist out is to tap into your creativity and learn how to follow your intuition.
---
I've written a course that examines this creativity process by looking at those musicians who went on to reach "genius" level.
---
By following the step-by-step processes in this course, you too can unleash the natural giftedness from within, and as a result you will write some truly stunning songs.
Hundreds of musicians have taken this course, and each day I receive letters telling me that they're uncovering a songwriter within themselves that they never even knew existed.
This course is perfect for beginner songwriting as it means you don't have to make the mistakes that almost every songwriter makes, and shortcut straight to enjoying life as a creative artist who writes songs that people love!
Be sure to test out the ideas I've listed in this beginner songwriting tips article... and if you want to discover the master songwriter within you...learn about my course by clicking here. 
Show me you're alive! Leave me a comment below...
Do you have any thoughts about this post? Share it!
Comments
Click below to see contributions from other visitors to this page...

freda.taylot@live.co.uk

Hi i'm Freda from paisley in scotland,and i,ve played guitar for 32 years,and only wrote my first song back in july. It was about how my daughter Andrea …
crazy experiences Not rated yet
I have been through a lot and to write songs that express all of the good and bad combined together kind of like mike doughty
armando Not rated yet
this is an amazing website, i love your tips and idias.. this tips are helping a lot..im recomending this web site to every song writer i know...
Songwriter Not rated yet
I enjoyed this article a lot. It made it clear to me that I am a gifted artist (songwriter). When I write I let go. I give my emotions complete and total …
So Amazing Not rated yet
Great Article! Great help! Pleasuring Read! Thank you.. - Mikel
song writer and producer Not rated yet
Thanks for the tips. I have been bless with the gift to write songs. I don't use any kind of structures. The way it comes out is the way it comes out. …
Dawn Castro AKA SKITLZ Not rated yet
Hello my name is Dawn, and everyone calls me Skitlz. I am a small time music producer with my fionce Danny, and we have many song lyrics written and even …
help yeah! Not rated yet
I know how to write, alright? what is on my mind is trying to find a way to sell my rhymes, get through these hard times, do the dirt, and put in …
Great advice Not rated yet
Great advice Geoff
B P Storm Not rated yet
Very interesting technique recording/listening back. Will have to give it a go. Been learning to play guitar for a little over a year. I seem to be …
MUSIC Not rated yet
THANKS A LOT THE THE TIPS YOU SENT ME ARE REAL HELPFUL
Very Good Not rated yet
I try not to pay to much attention to most of the sales tactics out there online, But I sure can tell one thing about you even if your trying to make money …
thanks for the encouragement Not rated yet
and teaching my heart to sing :)
Backward Songwriter Not rated yet
Great advice.I depend on my co-writers.I write lyrics.
What about notes? Not rated yet
This is really good advice, and your right I do stop writing song when I don?t think I am doing it right, but what is composing? Is it just playing …
Great tips. Not rated yet
I actually followed these tips after reading them and wrote my first song within a day and a half. Thanks!
THIS IS AWESOME Not rated yet
You took the thinking of an average beginner song writer and not only showed them to get rid of it, but gave them tips showed the process behind song writing …
I loved it!!! Not rated yet
thank you very much Geoff!
Excitedly excited Not rated yet
I've read your post and it gives me a lot of hope. I've written lyrics for years, but I'm a seagull because I am half of a songwriter. I don't have a …
Mckenzie Not rated yet
HELP ME! i need to write a great song! help!
music = love! Not rated yet
I'm a professional songwriter and I couldn't agree with you more on all accounts on songwriting! Keep up the great teaching! Rock on! Gable
Kat Writer Not rated yet
I have poured through many song writing books, Some are filled with to me useless information by the time I finish searching through the pages I forgot …
Comment on Beginner Songwriting Tips Not rated yet
Geoff: I've read a few of your articles over the last month or so and like a lot of your ideas. My favorite is to record 30 minutes of improvising. …
lyrcists Not rated yet
I write good lyrics and I know what kind of music I do and don't care for............my issue is that I need someone who can write the music.........Thanks …
opportunity Not rated yet
i think all that you have mentioned in the article is true. i write lyrics and i know they are good. i come up with words at the oddest of times and moments. …
what i do Not rated yet
I wouldn't say i was a beginner anymore. & i think it's because of some of the tips you have given. but I've always had a way of writing & it's never let …
My Name's Cody Yo Not rated yet
My name's cody yo an I like da way u teach me to reach my enter flow so i'm learn how to catch my flow an i'ma gon let my creativity grow o yea one mo …
Old Love Nevr Die Not rated yet
I was first introduced to country music in 1977 at a lounge in the State of Pennsylvania. I fell in love with the music as well as the lyrics. This …
brnzbk Not rated yet
Good information, I am starting out with a friend of mine and he is more advanced than I from an experience standpoint. He has submitted many songs for …