Songwriting Secrets That'll Have You Writing Stunning, Compelling Songs Easily
I want to tell you something that's pretty embarrassing. I used to suck at songwriting. Just about everything wrote got no reaction from my friends and family... as well as record AnR people.
---
Premium Content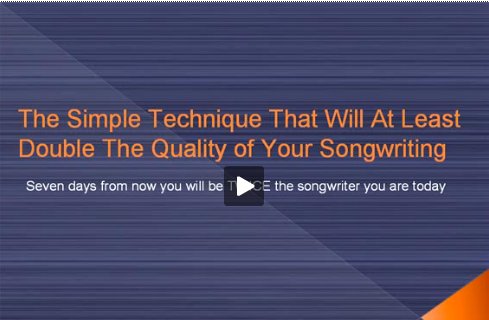 Click here to watch the Simple Technique That Double's The Quality Of Your Songwriting

---
At times it was humiliating.
There was a point that I reached when I decided "enough is enough" and I began researching how I could become a much better songwriter.
I tried technique after technique, without much luck... until I began to look at where great music REALLY comes from.
I began changing the direction of my research to areas such as creativity and human genius. Once I made this shift, things began to change...
My songwriting began improving quickly. My songs became far more compelling and inspiring. And people who heard them were stunned by the difference.
After publishing a course that reveals all the principles and techniques I'd discovered, my inbox became flooded with messages from fellow songwriters...
... all reporting the same dramatic transformations as I had experienced!
It's not like me to brag, but this new method of writing both music and lyrics has been responsible for some amazing songs written, by both me and my students.
This website has been published to give you some insight into this new method. Enjoy...
Use the following songwriting tips to tap into your inner genius, explode your creativity, and write your best songs to date. If you use just this first technique, you will improve more than you would
While most songwriting techniques are ineffective, there are a select few that work amazingly well. Try these three techniques and you will hear an instant improvement in your songwriting abilities,
If you'd like to discover how to write music that takes your breath away, there are certain things you need to know. For example there is one easy technique that will instantly double your creativity
On this page you will learn how to write lyrics using ideas that have taken years to discover. One of these techniques in particular will cause an amazing transformation in your lyrics, instantly and
These song writing techniques will unblock what's holding you back from your most brilliant ideas. You have far more potential than you're aware of and these techniques will release this inner genius
Watch a large selection of videos on how to write a song. The techinques in these videos will show you how to tap into your inner genius and release your most brilliant ideas. If you aren't using
If you would like to contact us, please fill in the form below and hit submit.
Learn about Geoffrey Williams, the creator of the Songwriting Secrets website, and author of The Songwriting Genius Within You.
The Songwriting Secrets Blog keeps you up-to-date with all additions and changes to the songwriting-secrets.net Web site. Subscribe here.
If you've ever had a songwriting problem such as being unable to fit your words with a melody, here's a solution so simple and easy you'll wonder how you never thought of it. Try this trick now and
On this page you will find links to every article on the songwriting secrets website. Use these to dramatically improve your songwriting ability.
If you would like to know how to write a good song, there is one factor that will effect your results more than anything else. Use this idea correctly, and you're songwriting will flourish.
Discover how to use the most powerful creative method that exists in your songwriting. These songwriting techniques will explode your creativity and cause leaps in the quality of your songwriting.