Win A Free Songwriting Course Worth $87!
Thank you so much for all the wonderful entries!
It was incredibly inspiring going through them.
And of course, almost impossible to narrow it down to 3 winners.
In fact, I had to extend it to 5 in the end!
---
Premium Content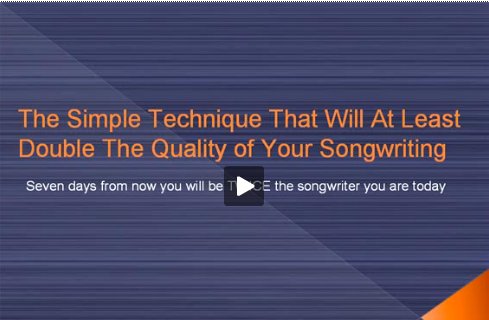 Click here to watch the Simple Technique That Double's The Quality Of Your Songwriting

---
Here they are (You can view their entries at the bottom of this page:
1. Larry Cole for some simple but priceless songwriting advice
2. Mark Joseph for an excellent tip about separating the creative and critical songwriting tasks to make for a much more streamlined and effective songwriting process
3. James Love with some tips on achieving success in one of the more abstract components of songwriting - writing while you're asleep. Believe it or not, many famous songs have been written this way, so try James's tips and you'll be in for a surreal experience!
4. David Reuter for his wonderful story "An Evening At The Ryman". This story is inspiring because it reminds us amazing things can and will happen when you put forth the effort and commitment.
5. Thomas Gaffney for showing courage and persistence both in life and songwriting. Thomas also a great technique that can be used when you're feeling creatively blocked.
If you are one of the winners, please contact me at support@musiciansedge.net for information on how to claim your prize.
Regards,Geoff Williams
Fill In The Form To Enter
Fill in the form below to enter into the competition.
Winners Announced Tuesday June 28
On June 28 the winning entries will be displayed here